Our responsible sourcing webinar series is designed to give LME-listed brands and stakeholders in the metals supply chain a more in-depth understanding of the LME's requirements. The LME team and industry experts will explain the various aspects of responsible sourcing and offer practical advice on how to achieve compliance.
Responsible sourcing webinars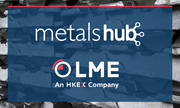 The LME is delighted to be collaborating with Metalshub to establish a transparent, efficient and liquid spot trading platform and marketplace for base metals, including those suited more to spot trading, like low-carbon aluminium.
Find out more
Stay up to date
Register with LME.com
Receive full access to all our price data and gain access to our monthly LME newsletter, packed with market tips and insights from our on-staff specialists.