Metals are an essential enabler of a sustainable future, and as global demand for metals increases, so will the expectations on sustainable standards.
Within our own business and in the metals and mining industries more widely, we are committed to both driving and lending support to sustainability initiatives.
We believe we have a collective responsibility as an industry to drive meaningful change in this space. Working together, we can make metals the cornerstone of a sustainable future.
Our strategy aims to provide the metals industry with the option of gaining greater transparency of and access to sustainably produced metal – such as low carbon aluminium – as well as to metal that itself plays a significant role in global decarbonisation and the circular economy – such as EV materials and scrap metals.
video | Sustainability at the lme
Metals are playing an important part in powering the green transition, but their role will be more powerful still if it is supported by their sustainable sourcing and production.

We are working together with our market to ensure metals will be the cornerstone of a sustainable future.
LME sustainability strategy and core principles
---
To support the metals and mining industries in the ongoing transition towards sustainability, we have adopted three core principles:

The LME's sustainability strategy hinges on providing metal market participants with the option for greater transparency and access in respect of sustainably produced metal and metal that itself plays a significant role in global decarbonisation and the circular economy.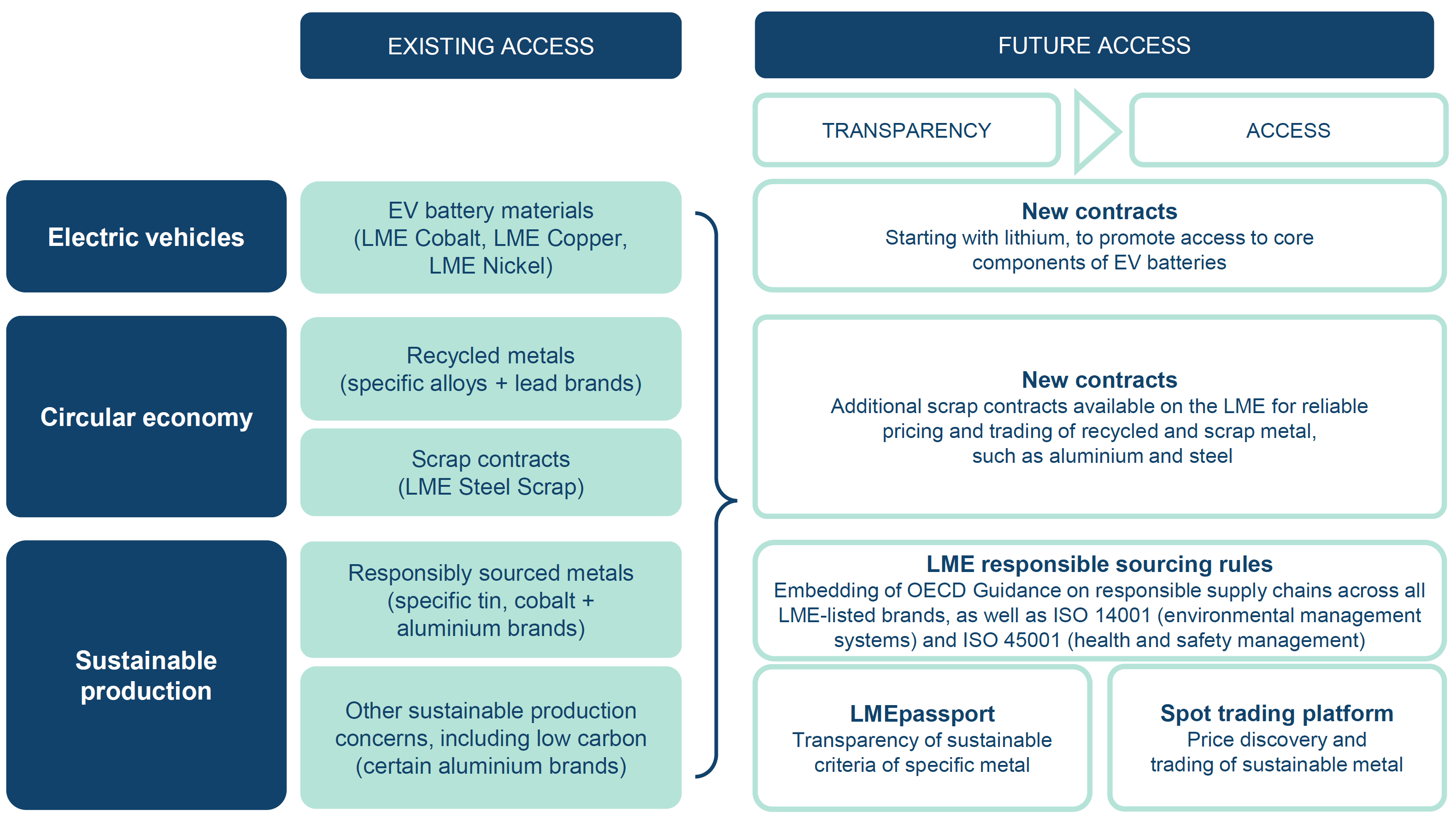 Overview documents
LME Sustainability: Summary (PDF)
Sustainability initiatives
---
EV metals
The LME provides risk management solutions for battery materials such as cobalt, nickel, and more recently, lithium, which support the creation of a more sustainable future. We have also been working closely with the electric vehicle (EV) and battery industries to identify and develop further risk management solutions that are tailored to their requirements, which could increase transparency and access to such metals.
Electric vehicle battery materials
LMEpassport
LMEpassport, which launched in August 2021, is a key element of the LME's strategy to bring greater transparency to metals' provenance data, including their sustainability credentials. LMEpassport is a centralised digital provenance register that enables users to provide disclosures related to metals' sustainability characteristics on a voluntary basis.
Sustainability disclosures on LMEpassport

Metalshub spot platform collaboration
The LME is delighted to be collaborating with leading digital metals trading and price intelligence platform, Metalshub, to establish a transparent, efficient and liquid spot trading platform and marketplace for base metals, including those suited more to spot trading, like low-carbon aluminium. This collaboration forms a key part of the LME's strategy to provide greater access to sustainably produced metal.
Scrap metals
Supporting the circular economy by providing transparent and reliable pricing, and risk management tools, for the scrap metals industries is a key element of our sustainability strategy. As of July 2021 we offer three regional steel scrap contracts, which together provide tools to manage price risk for global flows of steel scrap products, positioning the LME at the centre of the global steel scrap trade. In 2021 we also launched our first aluminium scrap contract – for the North American used beverage cans (UBC) market – supporting this industry in managing its price risk and facilitating the development of the broader recycled aluminium value chain.
---
Sustainability discussion paper 2020
In August 2020 we issued a discussion paper on LME Sustainability, setting out our vision, approach and plans in respect of expanding the vital role the metals and mining industries will play in transitioning to a sustainable future.
We then published our analysis of the broad market feedback which we received, together with the details of the steps we intend to take next.
Market engagement and external partnerships
---
Webinars
Visit our webinar section to listen to our suite of LME Sustainability webinars, featuring discussions with industry experts and key stakeholders. Our webinars on sustainability focus on the key areas covered in the discussion paper, including the sustainable production, the circular economy and electric vehicles.
Upcoming and new resources and webinars
Sustainability newsletter
We have launched a new sustainability newsletter, featuring updates on what's happening at the LME and around the metals community. We will share news from the metals industry and beyond on sustainability initiatives and other important issues.
External partnerships
LME – ASI memorandum of understanding
The London Metal Exchange (LME) and the Aluminium Stewardship Initiative (ASI) have developed a Memorandum of Understanding to underpin collaboration on responsible aluminium value chains.
Key areas of focus include:
Use of ASI Certification to evidence aluminium brands' compliance with LME responsible sourcing requirements which are centred on the OECD Due Diligence Guidance
The potential use of ASI Certification, metrics and audits to support LME initiatives to bring together buyers and sellers interested in aluminium with sustainability assurance
LME input into ASI monitoring and evaluation projects
Other relationship-strengthening activities that can promote the shared values of both organisations.
---
If you have any questions or would like to discuss any matters relating to sustainability at the LME, please email sustainability@LME.com
Stay up to date
Register with LME.com
Receive full access to all our price data and gain access to our monthly LME newsletter, packed with market tips and insights from our on-staff specialists.