COVID-19 is having a significant and sustained effect throughout the entire supply chain of the metals industry. We have joined recent virtual events which explore how the market can continue in business effectively and responsibly during this time.
Webinars
Promoting Business Responsibility in a Post-COVID World
Matthew Chamberlain joined industry leaders on this OECD virtual forum in May 2020 to discuss how COVID-19 has disrupted global supply chains and exposed vulnerabilities.
From Fragility to Resilience: commodities trading in times of crisis
The Institute for Human Rights and Business (IHRB) explored the immediate human rights implications of trading commodities in a global pandemic, and the role that exchanges and commodity traders can play in identifying solutions which promote public health while minimising economic damage.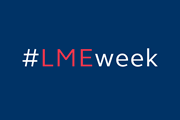 Don't miss out on your place at the LME Metals Seminar 2021. Monday 11 October 2021, 07.30-15.00 BST, Queen Elizabeth II Centre, London. Join the conversation in-person or online.
Register now
Stay up to date
Register with LME.com
Receive full access to all our price data and gain access to our monthly LME newsletter, packed with market tips and insights from our on-staff specialists.