The LME Annual Dinner is one of the flagship events of LME Week, the LME Dinner brings together 2,000 international guests of the LME and its members.

Location: The Great Room, Grosvenor House Hotel, London
Contact us
For further information on sponsorship or if you have any questions, please contact our LME Events team.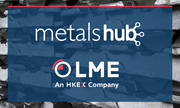 The LME is delighted to be collaborating with Metalshub to establish transparent and digital supply chain solutions for base metals and low-carbon aluminium.
Find out more
Stay up to date
Register with LME.com
Receive full access to all our price data and gain access to our monthly LME newsletter, packed with market tips and insights from our on-staff specialists.