The LME Annual Dinner is returning for 2021 and will take place on Tuesday 12 October 2021, subject to UK government guidance on measures to prevent the spread of COVID-19.
Location: The Great Room, Grosvenor House Hotel, London
Time: 19.00-22.30 BST
Guest speaker: The LME is delighted to announce that the guest speaker at the LME Annual Dinner 2021 will be John Glen MP, Economic Secretary to the Treasury.

John was appointed Economic Secretary to the Treasury and City Minister on 9 January 2018. John was Parliamentary Under Secretary of State for the Department for Digital, Culture, Media and Sport from 14 June 2017 to 8 January 2018. He was Parliamentary Private Secretary to Philip Hammond from July 2016 until June 2017. John was first elected to parliament as the MP for Salisbury in 2010. He previously worked for Eric Pickles and Sajid Javid as a Parliamentary Private Secretary. The LME looks forward to welcoming John to the LME Annual Dinner 2021 in October.
LME Annual Dinner 2021 guest speak announcement
Members, ISV's, warehouse companies, and certain other entities are invited to book tables by emailing dinner@lme.com.
INFORMATION REGARDING COVID-19 MEASURES
Firstly, and most importantly, we would like to request that you have been double vaccinated and/or have taken a negative lateral flow test before attending. We would also like to reiterate that guests should not attend if they have any symptoms or are feeling unwell.

Aside from this, we will have a number of protocols in place with the Grosvenor House. Please a summary below, and don't hesitate to ask if you would like any more detail.

• Venue staff will wear face coverings and white gloves during service
• All public areas and event spaces have a high level of natural and mechanical air-conditioning with fresh air ventilation
• High traffic areas and touchpoints are sanitised frequently and regularly. Hand sanitising stations are available for all guests to use
• Additional cloak room available to manage queues
• 50% capacity limit to ensure that we can create more space between tables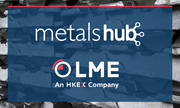 The LME is delighted to be collaborating with Metalshub to establish a transparent, efficient and liquid spot trading platform and marketplace for base metals, including those suited more to spot trading, like low-carbon aluminium.
Find out more
Stay up to date
Register with LME.com
Receive full access to all our price data and gain access to our monthly LME newsletter, packed with market tips and insights from our on-staff specialists.