The LME Annual Dinner 2022 will take place on Tuesday 25 October. One of the flagship events of LME Week, the LME Dinner brings together 2,000 international guests of the LME and its Members.

Location: The Great Room, Grosvenor House Hotel, London
Time: 19.00-22.30 BST
How to book:
The LME Dinner is an invite-only event and tables are available to purchase for LME Members, warehousing companies, ISVs, LME committee members' companies and LME Metals Seminar sponsors. Tables seat 10 people and cost £2,000 + VAT (£200 per ticket). For more information and to register your interest, please email dinner@lme.com .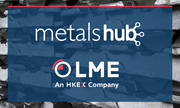 The LME is delighted to be collaborating with Metalshub to establish a transparent, efficient and liquid spot trading platform and marketplace for base metals, including those suited more to spot trading, like low-carbon aluminium.
Find out more
Stay up to date
Register with LME.com
Receive full access to all our price data and gain access to our monthly LME newsletter, packed with market tips and insights from our on-staff specialists.