Thursday 27 October 2022
The LME Focus Day takes place during LME Week, where we host a number of sessions focusing on key LME products and initiatives.
This year, we'll be delving deeper into the ferrous market, sustainability, and digitalisation.
Details on the agenda and registration will be released soon.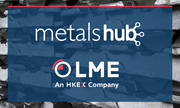 The LME is delighted to be collaborating with Metalshub to establish a transparent, efficient and liquid spot trading platform and marketplace for base metals, including those suited more to spot trading, like low-carbon aluminium.
Find out more
Stay up to date
Register with LME.com
Receive full access to all our price data and gain access to our monthly LME newsletter, packed with market tips and insights from our on-staff specialists.