Keynote speaker
Hilde Merete Aasheim, President and CEO, Hydro
Hilde Merete Aasheim Hilde Merete Aasheim became President & CEO of Hydro on May 8, 2019.
She came from the position as Executive Vice President for the Aluminium Metal business area since November 2008.
Aasheim joined Hydro in October 2005 as Executive Vice President for Leadership and Culture (human resources, health, environment, safety and corporate social responsibility). In January 2007, she stepped out of Hydro's corporate management board to lead the planning of the integration between Hydro's oil and gas activities and Statoil. When the merger closed in October 2007, she became executive vice president of staff functions and corporate services in StatoilHydro.
From 1986 to 2005 she held several senior positions in Elkem. In 2002 she was head of Elkem's Silicon division and member of the corporate management board. From 2015 she became the chairperson in the Federation of Norwegian Industries (Norsk Industri). She has also been chair of International Aluminium Institute's Board of Directors.
Aasheim has a master's degree in business economics from the Norwegian School of Economics and Business Administration in Bergen and is also a state authorized public accountant. Aasheim has also work experience from Arthur Andersen & Co.
Hilde Merete Aasheim was born in Larvik, Norway.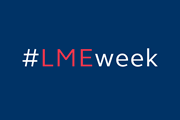 Don't miss out on your place at the LME Metals Seminar 2021. Monday 11 October 2021, 07.30-15.00 BST, Queen Elizabeth II Centre, London. Join the conversation in-person or online.
Register now
Stay up to date
Register with LME.com
Receive full access to all our price data and gain access to our monthly LME newsletter, packed with market tips and insights from our on-staff specialists.