Keynote speaker
Inka Guixà, Chief Executive, La Farga
Inka is the Chief Executive and Board Vice-President of La Farga, a metallurgical company with +210 years in the market that develops semi-finished products of copper and its alloys, mainly for markets such as energy, the automotive industry, telecommunications, construction and infrastructure, metal packaging and the railway industry, among others.
Inka is also the Director of SDILaFarga, LLC, the President of the Board of Directors of Vicente and a member of the Board of Directors of RACC.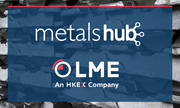 The LME is delighted to be collaborating with Metalshub to establish a transparent, efficient and liquid spot trading platform and marketplace for base metals, including those suited more to spot trading, like low-carbon aluminium.
Find out more
Stay up to date
Register with LME.com
Receive full access to all our price data and gain access to our monthly LME newsletter, packed with market tips and insights from our on-staff specialists.