Keynote speaker
Hilde Merete Aasheim, President and CEO, Hydro
Hilde Merete Aasheim Hilde Merete Aasheim became President & CEO of Hydro on May 8, 2019.
She came from the position as Executive Vice President for the Aluminium Metal business area since November 2008.
Aasheim joined Hydro in October 2005 as Executive Vice President for Leadership and Culture (human resources, health, environment, safety and corporate social responsibility). In January 2007, she stepped out of Hydro's corporate management board to lead the planning of the integration between Hydro's oil and gas activities and Statoil. When the merger closed in October 2007, she became executive vice president of staff functions and corporate services in StatoilHydro.
From 1986 to 2005 she held several senior positions in Elkem. In 2002 she was head of Elkem's Silicon division and member of the corporate management board. From 2015 she became the chairperson in the Federation of Norwegian Industries (Norsk Industri). She has also been chair of International Aluminium Institute's Board of Directors.
Aasheim has a master's degree in business economics from the Norwegian School of Economics and Business Administration in Bergen and is also a state authorized public accountant. Aasheim has also work experience from Arthur Andersen & Co.
Hilde Merete Aasheim was born in Larvik, Norway.
Nicolas Aguzin joined HKEX as Chief Executive Officer on 24 May 2021 from J.P. Morgan, where he was most recently Chief Executive Officer of J.P. Morgan's International Private Bank. Mr Aguzin has been based in Hong Kong since 2012.

From 2013 to 2020, Mr Aguzin was CEO, J.P. Morgan, Asia Pacific where he was responsible for all the firm's business across 17 markets. Mr Aguzin presided over some of the firm's major expansion efforts during the period, including establishing itself in China as one of the few international financial institutions with a full range of services and capabilities; including a fully-owned locally incorporated commercial bank, a majority-owned securities company, an asset management company and a futures and options company. Concurrent with his Asia CEO role, Mr Aguzin also ran J.P. Morgan's Investment Banking division in Asia. During his tenure the bank rose to become one of the leading investment banks in the Asia Pacific region.

Mr Aguzin joined J.P. Morgan in 1990 in Buenos Aires as a financial analyst. Between 1990 and 2005, he held a variety of roles in New York and Buenos Aires, and in 2005 he was appointed as CEO, Latin America. In 2008 and 2009, in addition to his responsibilities as CEO, Latin America and Head of Latin America Investment Banking, he served as Senior Country Officer for Brazil.

Mr Aguzin holds a bachelor degree in Economics from the Wharton School of the University of Pennsylvania in the US and is fluent in Spanish, Portuguese and English.
Mark is a journalist covering industrial metals at Bloomberg in London. He focuses on trading in futures and physical markets, and also contributes to Bloomberg's coverage of mining companies, commodities hedge funds and trading houses. He started his career at Metal Bulletin and has been covering metals markets for more than a decade. He holds an MA in English Literature from Cardiff University.
James Cressy is Chief Operating Officer for the LME Group and is a member of the Executive Committee for both the LME and LME Clear.
James has been with the LME Group for over eight years, originally as Head of Operations for LME Clear, where he played an instrumental role in the build and launch of the Clearing House in 2014, before taking over as Head of Relationship Management for the LME and LME Clear in June 2016. Prior to joining the LME James worked for five years at the European Central Counterparty Ltd (EuroCCP) as Head of Operations. James joined EuroCCP from Merrill Lynch where he worked for 11 years, managing a range of functions including client services and middle office in the equities and equity derivatives divisions.
James holds a Bachelor degree in Science (Hons) from The University of Exeter in the United Kingdom.
Siobhan is currently working as a senior specialist for the UN Sustainable Stock Exchanges initiative (SSE) focusing on topics of climate change, nature and gender diversity and as the Finance Sector Engagement Lead for the Science Based Targets Network (SBTN). As an independent consultant she has been responsible for developing an ESG disclosure guidance for a major international stock exchange, publishing a report with the SSE on derivatives exchanges and sustainability and acting as technical editor for a book on "ESG Investing for Dummies". She served as a member of the Informal Technical Expert Group of the Task Force on Nature-related Financial Disclosures (TNFD), worked as the Director of Capital Markets Engagement for the Global Reporting Initiative, and was Head of Research and Public Policy at the World Federation of Exchanges (WFE). During her time at the WFE she led the WFE's sustainability work culminating the development and adoption of the WFE's sustainability principles. Prior to joining the WFE, Siobhan was Director of Strategy and Public Policy for the Johannesburg Stock Exchange, where now serves as a non-executive director on the Board since early 2020.

Siobhan has an LLB and an MBA from the University of Cape Town, an MA in International Relations and Economics from the Johns Hopkins University SAIS and an MSc in Climate Change from King's College, London. She is also a Yale World Fellow of 2011.

Vanessa Davidson, Director of Base Metals Research and Strategy
Vanessa Davidson has worked for CRU since 1988. She has had extensive experience of analysing a wide range of metal markets including aluminium, nickel, stainless steel, ferrochrome and copper. Vanessa is currently director of CRU's Base Metals Team with overall responsibility for the regular market and cost reports produced by this division. She is a specialist in the copper market and regularly delivers presentations on copper at international conferences. Vanessa is a member of CRU's Executive Team. She holds a BA (Hons) in Economics.
Aidan Davy joined ICMM in June 2007. As COO, he is responsible for strategy development and implementation and lead the work to develop ICMM's Mining Principles, which define good practice environmental, social and governance requirements for the mining and metals industry. He also leads ICMM's work on environmental issues, including the management of issues relating to biodiversity, climate change, mine closure, tailings and water. Prior to assuming the role of COO in 2015, Aidan led ICMM's work on social and economic development, investor engagement and sustainability reporting.

Aidan has 34 years of cross-sectoral experience on sustainable development issues, working with a range of private, multi-lateral and not-for-profit organizations, including the World Bank and the International Finance Corporation in Washington DC. For the first decade of his career, Aidan primarily worked on environmental issues, within an international consulting company, a multinational manufacturing company and at the World Bank. He then shifted his focus to social responsibility and accountability issues, with a strong emphasis on the extractive industries for almost two decades. More recently, his focus has shifted back to environmental matters – recognising that these are closely connected to social responsibility and accountability issues.
John has been with Anglo American for 11 years being appointed to the Head of Stainless Steel Raw Materials Sales role in September 2016. Prior to this John spent 5 years as the Head of Strategy in Anglo's Marketing business unit where he was key in developing and implementing Anglo's revised approach to commercial and marketing strategy, and 2 years as Commercial Manager in the Anglo's Australian coal business. John's first role in Anglo was leading a business improvement project in Anglo's industrial minerals business. Prior to working for Anglo American John worked in a number of senior operational roles in the UK chemical, engineering and textile industries.
Jessica is Head Strategist at Pala Investments. Her focus is on investigating decarbonization technologies such as electric vehicles, renewables, hydrogen and recycling, and forecasting the impact these trends will have on commodity markets and how investors will finance the future economy. She also leads Pala's ESG due diligence process.

Prior to joining Pala, Jessica was Commodities Strategist and an Equity Research Analyst at BMO Capital Markets - a member of their top-ranked Metals & Mining global research team - where her in-depth analysis and integrity gained the trust of asset management and industry clients around the world.

Jessica is a frequent speaker at industry and corporate conferences, most recently at the FT's Global Commodities Summit and Fastmarkets' Lithium Markets conference. She has appeared on CNBC and Bloomberg TV, and has been cited in other press such as the Financial Times, Wall Street Journal, Reuters and Streetwise.

Duncan Hobbs, Research Manager, Concord Resources
Dr. Frank Jackel is Co-Founder and Managing Director of Metalshub, a digital trading platform for raw materials. Prior to Metalshub he was Global Head of Marketing & Sales for CMOC and Head of Sales for Ferroalloys at Anglo American. Frank started his career in R&D in the metals industry and joined later The Boston Consulting Group, where he led major strategy projects in the metals & mining industry. He holds Master degree and a PhD in Metallurgy & Material Science from RWTH Aachen University, Germany.
Mikko Keto is the Mining President at FLSmidth and a member of Group Executive Management. Mikko has for a significant period held senior executive positions in the mining industry. Prior to FLSmidth, he was President, Minerals Services and Pumps at Metso, where he also served in various roles, including Senior Vice President in Spare Parts, Senior Vice President of Performance Services and President of Automation Services. He was a member of the company's Executive Team. Earlier in his career, Mikko was Head of Sales for the Maintenance business unit at KONE Corporation, and held senior management and sales positions at Nokia Networks. Mikko's primary focus at FLSmidth is on maximising business opportunities across the mining flowsheet, with an emphasis on sustainability, digitalisation, service and aftermarket. He ensures the FLSmidth Mining organisation delivers solutions, expertise and equipment that provide sustainable productivity to our mining customers.
Ms Yang Liu is the Head of China Sales at the London Metal Exchange (LME), responsible for further developing Chinese market together with the HKEX Commodity team in China.

Having worked in Exchange, brokerage and investment banks in the commodity sector for over 17 years, working closely with industrial background clients in Asia Pacific region, Ms Liu offers well-rounded knowledge and expertise to help her clients to maximise potential in financing, hedging and trading.

Prior to joining the LME, Ms Liu worked as a Director of Standard Chartered Bank and Senior Account executive for Category 1 LME member such as Natixis and Sucden Financials.

Ms Liu has a Master's degree in Management & Finance from the University of Bath.

Robin Martin – Head of Market Development, joined the LME in March 2018 and manages the company's business development activities across product development, market data, market structure, sales and marketing. He is a member of the LME and LME Clear Executive Committees.

Prior to joining the company, Robin worked at the World Gold Council for five years leading the organisation's market infrastructure initiatives aimed at improving the transparency and efficiency of the global gold market. He was also responsible for the European Investment sector activities of the World Gold Council, leading projects to broaden investor access to gold. Prior to that, he spent more than 10 years at Accenture as a senior management consultant focusing on business strategy and operating model development in the financial services sector.

Robin holds master's degree in International Securities, Investment & Banking from ICMA Centre and an undergraduate first class degree in Management Science & IT from Alliance Manchester Business School.
Tom Mulqueen is Head of Research at Amalgamated Metal Trading, which provides brokerage and dealing services across LME base and ferrous metal derivative markets. Tom is currently responsible for analysing fundamental, financial and macro-trends driving base metal price-performance. He was previously Head of Market Intelligence at the International Tin Association, with four years' experience analysing global tin industry supply and demand fundamentals.
Neil Shearing is our Group Chief Economist. He has overall responsibility for managing our team of economists and leading our research, as well as developing the firm's products and its relationship with clients. He is also a director of the company.
Neil is the first point of contact for many clients and presents regularly on the global economic and financial market outlook. He is a well-known voice within the investment community and has written articles in the Financial Times and a number of other newspapers, as well as appearing regularly on TV and radio.
Prior to becoming Group Chief Economist, Neil was our Chief Emerging Markets Economist, managing a team that won several awards for forecast accuracy. He also managed our New York office. Neil joined Capital Economics from HM Treasury where he worked as an Economic Adviser in various areas, including fiscal policy and global economics. He holds degrees in Economics from the University of York and the University of London and is a Fellow of the Royal Society of Arts.
Nicholas Snowdon is the head of industrial metals research in the Global Investment Research Commodities team at Goldman Sachs. He publishes research on these respective commodity markets in the context of strategies for both investors and corporate risk management. He has worked in the sector for over a decade at a number of financial institutions in both London and New York prior to joining Goldman Sachs in 2020. Nicholas earned an MSc in Development Economics and Finance from SOAS (University of London), and a BA in Politics and Philosophy from the University of Durham.Nick Snowdon, Metals Strategist, Goldman Sachs
Dr Yanchen Wang is the managing director of SMM UK office, which was established in May 2021. He takes charge of SMM overseas commodity market research.
Dr Yanchen Wang is a well-known analyst in the global commodity industry. His areas of expertise include global aluminium, alumina, bauxite, downstream, recycling and power/energy market analysis, cost modelling and value assessment of aluminium assets. In recent years, he has extended his research in the other base metals and battery metal markets, macroeconomic and relative industries, like thermal coal, gas, power, and carbon emission markets. He has visited more than 100 bauxite mines, alumina refineries, aluminium smelters, downstream and recycling assets around the world, in China, Russia, Australia, Europe, Indonesia, Malaysia, the Middle East and North America. He also often attends technical and market conferences and gives presentations as a key-note speaker.
Before joining SMM, he was the principal analyst at CRU and the head of Chinese aluminium market research. Dr Yanchen Wang had worked at CRU for 15 years.
Yanchen has a PhD in Engineering from Chinese Academy of Sciences.
Timothy Weiner, Vice President Aluminum Pricing & Risk Management, Harbor Aluminum
Geordie provides insights and comprehensive analysis on macroeconomics, metals, agriculture and the FX markets. He is recognised as a key metals market commentator, authoring Sucden Financial's daily base metal reports, its benchmark Quarterly Metals Report and in-depth investment research in electric vehicles and the coffee markets. Geordie joined Sucden Financial in 2016, he holds a degree in Agricultural Economics and is currently completing a Masters in Sustainable Resources and Economics at UCL.
Amelia Xiao Fu is the head of Commodity Markets Strategy at Bank of China International. Her team covers all commodity sectors ranging from energy, base metals, precious metals and agriculture. The team's focus is to combine top-down global macro / financial drivers with fundamental analysis to provide investment advice. In 2019, BOCI won 'Commodities Research House of the Year' Award by Energy Risk.
She speaks regularly at global conferences and is frequently quoted by media including Bloomberg, Reuters, the FT and the Wall Street Journal.
Before joining BOCI, Xiao worked as a commodity strategist at Deutsche Bank in London. She studied Economics at the London School of Economics and Harvard University.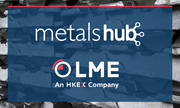 The LME is delighted to be collaborating with Metalshub to establish a transparent, efficient and liquid spot trading platform and marketplace for base metals, including those suited more to spot trading, like low-carbon aluminium.
Find out more
Stay up to date
Register with LME.com
Receive full access to all our price data and gain access to our monthly LME newsletter, packed with market tips and insights from our on-staff specialists.