Sponsorship and exhibition opportunities at the LME Metals Seminar 2022.
The LME Metals Seminar provides the perfect opportunity to position yourself as an industry thought-leader, build relationships with key clients, generate new business contacts and get your message across to a highly targeted audience.
Find out more about opportunities to sponsor and exhibit by downloading our sponsor pack.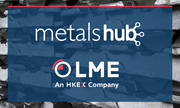 The LME is delighted to be collaborating with Metalshub to establish a transparent, efficient and liquid spot trading platform and marketplace for base metals, including those suited more to spot trading, like low-carbon aluminium.
Find out more
Stay up to date
Register with LME.com
Receive full access to all our price data and gain access to our monthly LME newsletter, packed with market tips and insights from our on-staff specialists.