The LME Sustainability Morning is a webinar that took place during LME Week 2021, which spotlights the LME's initiatives to support the metals and mining industries in the ongoing transition towards sustainability. The webinar is now available on-demand.
Please find the on-demand agenda with timings for specific sessions below. Simply jump to the time of the session you wish to watch!
00:43 – Introducing the LME's sustainability principles, Georgina Hallett, Chief Sustainability Officer, LME
Overview of the LME's drivers when it comes to sustainability and the LME's core sustainability principles
Overview of the LME's existing access and future access to sustainable metals
---
10:40 – How are base metals an enabler of a sustainable future? Christopher Davis, Regional Pricing Director, Metals - Americas, S&P Global Platts
---
31:00 – Case study: Aluminium and its contribution to the circular economy, Pernelle Nunez, Deputy Secretary General, Director - Sustainability, International Aluminium Institute
---
47:55 – LMEpassport overview - promoting sustainability transparency, Jamie Gartside, Product Development Manager and Hugo Brodie, VP Sustainability, LME
---
1:16:45 – Sustainable production of electric vehicle battery materials, Antonio Masiero, Product Development Manager, LME
Overview of LME contracts that support the EV value chain
Fireside chat - how can we ensure EV metals are produced sustainably?
Panellists:
Dana Graves, Director of Lithium Technical Center, Livent
Chris Doornbos, CEO, E3 Metals Corp
Daniel Jimenez, Partner, iLi Markets
---
2:06:11 – Responsible sourcing of metals, Nicole Hanson, Responsible Sourcing Manager, LME and René Aguilar, Vice President of Sustainability and Corporate Affairs, Antofagasta Minerals
LME responsible sourcing refresh
Interview with René Aguilar – the value of responsible sourcing and the practicalities of implementation
LME's direct commitment
---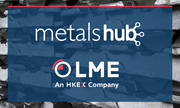 The LME is delighted to be collaborating with Metalshub to establish a transparent, efficient and liquid spot trading platform and marketplace for base metals, including those suited more to spot trading, like low-carbon aluminium.
Find out more
Stay up to date
Register with LME.com
Receive full access to all our price data and gain access to our monthly LME newsletter, packed with market tips and insights from our on-staff specialists.