LME Aluminium Premiums are designed to work alongside the 'parent' LME Aluminium contract.
They allow market participants to hedge the all-in price of aluminium and physically deliver or receive premium aluminium warrants in non-queued LME premium warehouses.
LME Aluminium Premiums are monthly contracts, settled physically net of the Free on Truck (FoT) warehouse fee, on the third Wednesday of every month out to 15 months.
Premium contracts trade without diluting liquidity from the regular LME market.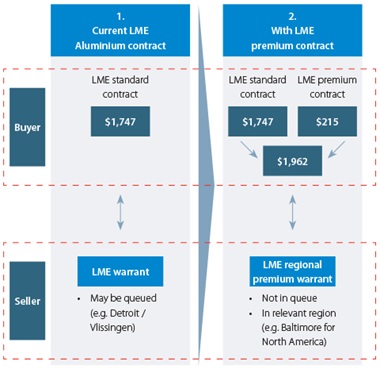 Note: LME premium contract indicatively assumed to trade at current surveyed US Midwest Premium level. Data as of 21 May 2015.
Premium contract example:
Member A owns a premium warrant he wants to sell to obtain the full cash value of the warrant
Trades two parallel contracts with the same settlement date
- Short LME premium contract
- Short regular LME contract
Settles in the following way
- Delivers the premium contract and receives a standard warrant plus cash representing the agreed premium
- Member A then delivers the standard warrant against the short position in exchange for cash representing the agreed LME price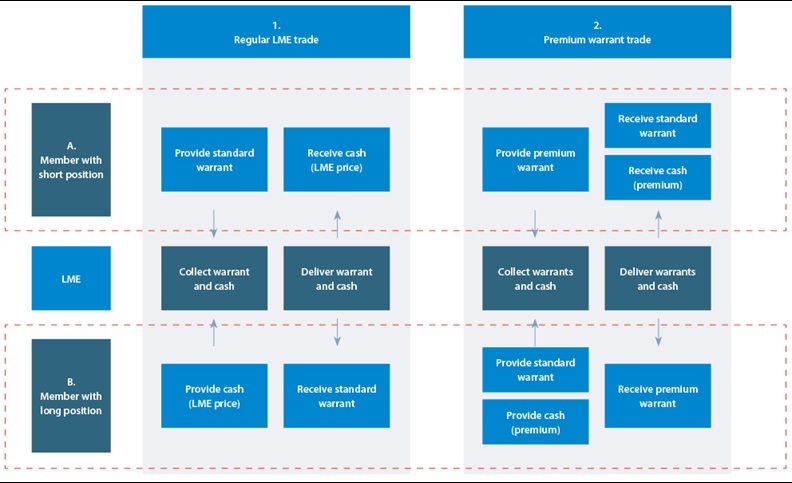 Stay up to date
Register with LME.com
Receive full access to all our price data and gain access to our monthly LME newsletter, packed with market tips and insights from our on-staff specialists.