Following their trip to the DRC, the LME's Responsible Sourcing team visited the project communities in Zambia being supported by the "Children out of Mining" project, in partnership with Pact.
In this blog post you can read more about their trip to the region, and the project initiatives, aiming to significantly reduce the number of children working in mining in the Copperbelt region of Zambia.
The LME is funding a Pact project that aims to significantly reduce the number of children working in mining in the Copperbelt region of Zambia. The "Children out of Mining" project supports a number of interventions designed to stop children and young adults from entering into mining in the first place. These interventions include supporting the most vulnerable children in mining communities with educational materials, sponsoring vocational training for young adults and the economic strengthening of vulnerable women through the organisation of WORTH (Women Organising Resources Together) groups.
School visits
During its time in Zambia, the LME team visited some of the local schools supported by the project. A recent change in Zambian law, meaning free schooling is now available for all children, has brought new challenges, including a large influx of new students, overcrowding in classrooms that are already in a poor condition, and the stigmatisation of the poorest students who cannot afford the correct uniforms.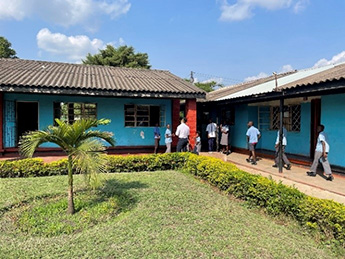 LME Responsible Sourcing Analyst Mingyou Yang visits sponsored students at one of the schools in Chingola, Zambia.
Through the "Children out of Mining" project, the LME has been able to sponsor some of these children - providing uniforms and learning materials, as well as supplying equipment for after-school activities such football, boxing, and netball - in a bid to deter children from entering mining sites.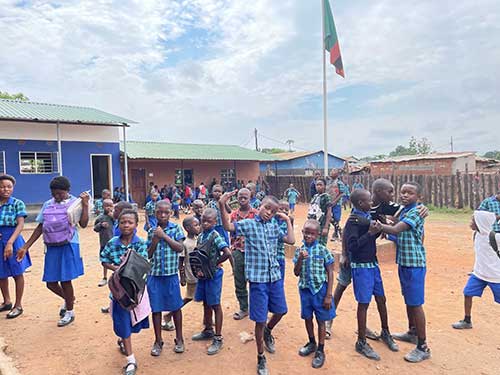 Primary school students at Saint Anthony's school near the Black Mountain site in Kitwe – one of the schools funded by the LME-funded project.
Vocational training centres
Another key challenge addressed through this project is the lack of training opportunities for young adults. Vulnerable adolescents coming out of mining often remain unemployed due to a lack of vocational skills. This project identified 80 youths interested in starting vocational training, and helped them to attend local training centres or undertake apprenticeships with artisans in their local communities.
Our team visited two of the training centres and spoke to students being trained in auto mechanics, electrical engineering, carpentry, sewing, hospitality, and other trades. Many of those who had previously been working in the mines were looking forward to their future careers.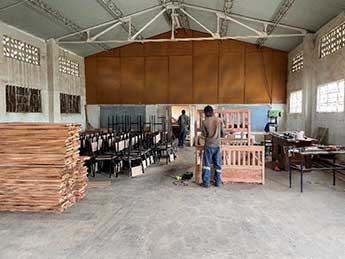 Students learning carpentry at the Don Bosco Vocational Training Centre.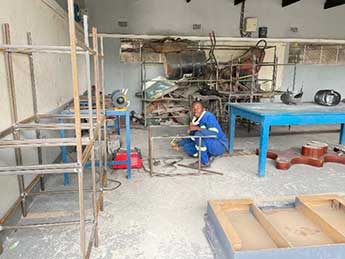 A student learning welding at the Buchi Vocational Training Centre.
Raising awareness
On the final day of the visit, the team was invited to the finale performance of a school awareness-raising programme. Students from six districts competed in song and dance, drama, poetry, and an activity called "educative modelling". Each activity centred on the importance of staying in school and away from dangerous mining activities. The teachers emphasised how well this model had worked for educating students through performative arts.
WORTH community project groups
The cornerstone of the "Children out of Mining" project targets a group of women in each of the project communities who either have children working in the mines, or were at risk of sending their children to work in the mines due to extreme economic vulnerability. The women were introduced to Pact's community banking model, WORTH, which brings together groups of women to establish small community banks – encouraging women to increase their incomes by starting businesses and learning the entrepreneurial skills needed to bring about change in their communities. By increasing household income, fewer children would then be expected to work in the mines to support their families. As of December 2022, the groups had raised over US$ 21,630, 100% of which was generated by group members.
The team visited some of these communities and heard about how these women are using their group savings to buy household supplies, materials to start their own businesses, or invest in their own education. One woman used her bank loan to pay for training to become a haul truck driver and is looking for work at one of the large-scale mines.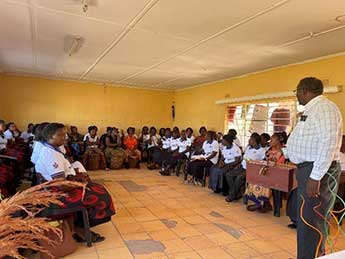 Two WORTH groups sharing their stories with the LME team.
During this trip, the LME's responsible sourcing team gained valuable insight into the ongoing and complex issues faced by mining communities. Through our responsible sourcing programme we hope to encourage more transparency and engagement across the metals value chain, working collaboratively with organisations such as Pact to help overcome these complex and often systemic challenges.