LME Asia Week is the annual event in Hong Kong where industry leaders and market players from the metals and financial communities come together to discuss the Asian commodities industry and network with peers and clients.
In 2021, we held a one-day webinar which brought together industry leaders who shared their insights into the development prospects of the metals market and the challenges and opportunities emerging from the COVID-19 pandemic. Our high profile speakers also discussed sustainability initiatives and the latest industry trends in the global commodities market.
We will be holding a one-day webinar again in 2022 - further details will be released soon.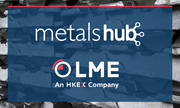 The LME is delighted to be collaborating with Metalshub to establish a transparent, efficient and liquid spot trading platform and marketplace for base metals, including those suited more to spot trading, like low-carbon aluminium.
Find out more