LME Asia Week is the annual event in Hong Kong where industry leaders and market players from the metals and financial communities come together to discuss the Asian commodities industry and network with peers and clients.
In 2022, the event was a one-day webinar due to ongoing travel restrictions.
LME Asia Metals Seminar 2022
How will the global commodities industry fare amid ongoing pandemic-induced disruptions, increased market volatility and geopolitical tensions? How will developments in technology shape the future of global commodities?

The LME Asia Metals Seminar brings together some of the leading voices in the commodities industry from across the world. Hosted by HKEX, the annual seminar has become a must-attend event for business and industry leaders, analysts and market participants.

In 2022, the seminar took place online on 12 July 2022 and featured topics and dialogue on the key issues facing the global metals community today, such as:
the need for enhanced risk management
the opportunities emerging in an inflationary environment, and
the digitalisation of the metals market
For more details, please email info@lmeasiaweek.com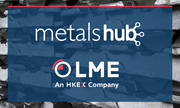 The LME is delighted to be collaborating with Metalshub to establish transparent and digital supply chain solutions for base metals and low-carbon aluminium.
Find out more