LME Week is the annual gathering of the global metals community in London.
Representatives from the entire supply chain meet to discuss current trends in metals markets, what to expect for the year ahead, and to network with industry peers and colleagues.
This year, the LME Metals Seminar will take place on Monday 11 October in London and online.
The LME Annual Dinner will take place on Tuesday 12 October.
The LME Sustainability Morning will take place on Thursday 14 October as a free-to-attend webinar hosted on BrightTALK.
Events will run subject to UK government guidance.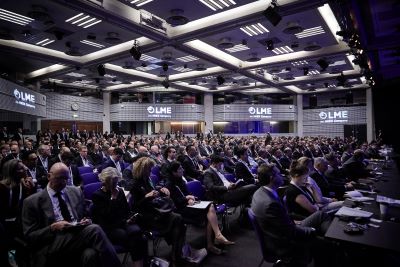 LME Metals Seminar
Date: Monday 11 October 2021
Location: Queen Elizabeth II Centre, London
Time: 07.30-15.00 BST
The LME Metals Seminar is our flagship event, featuring high-profile speakers covering issues facing the metal industry today.
Register for both in-person and online tickets now.
Stay up to date
Register with LME.com
Receive full access to all our price data and gain access to our monthly LME newsletter, packed with market tips and insights from our on-staff specialists.