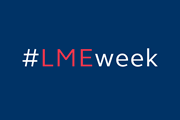 Don't miss out on your place at the LME Metals Seminar 2021. Monday 11 October 2021, 07.30-15.00 BST, Queen Elizabeth II Centre, London. Join the conversation in-person or online.
Register now
Stay up to date
Register with LME.com
Receive full access to all our price data and gain access to our monthly LME newsletter, packed with market tips and insights from our on-staff specialists.