On International Women's Day 2023, the LME would like to highlight the work of two organisations we support, Pact and The Impact Facility, in Zambia and the Democratic Republic of the Congo (DRC) respectively.
We have seen both of these organisations engage with women in mining communities to reduce child labour in vulnerable communities.
The cornerstone of Pact's "Children out of Mining" project is to reach women who either have children working in the mines, or are at risk of sending their children to work in the mines due to extreme economic vulnerability. Ensuring that financial assets are in the hands of women is a well-established model to speed up development, reduce inequality and improve education.
Pact introduced women living in the Copperbelt region to the organisation's banking model, WORTH, which brings together groups of women to establish small community banks, encouraging women to increase their incomes by starting businesses and learning entrepreneurial skills to develop their communities. By increasing household income, fewer children are expected to work in the mines to support their families. As of December 2022, the groups raised over USD $21,630, all of which was generated by women.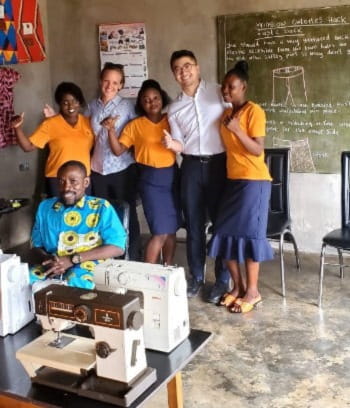 Nicole Hanson (2nd left) and Mingyou Yang (2nd right) with students at a community-led sewing school in Zambia.
One success story from these groups is the experience of the Roan WORTH group in Luanshya District. The 25-member group chose to use their loan to start a chicken rearing business. Recently they were awarded USD $1,420 funding from the Ministry of Local Government and Rural Development (MLGRD) Women Empowerment Funds (WEF), to support the expansion of their business. The government officials who visited the group were especially impressed by members' entrepreneurial spirit and resulting ability to meet their households' basic needs, including paying for their children's school fees and healthcare as well as being able to improve household members' food security.
In December 2022, Nicole Hanson, the LME's Responsible Sourcing Manager, visited the DRC and Zambia. Reflecting on her visit, she said, "I met with some of these women and heard first-hand about how they are using their loans to start businesses and invest in their own education. One woman used her bank loan to pay for training to become a haul truck driver and is looking for work at one of the large-scale mines. One supervisor at a large-scale mine we visited also told me that his best haul truck driver was a woman. This International Women's Day, I'm remembering the women I met in Zambia and DRC who are determined to lead the way to a better life for so many in their communities under trying circumstances."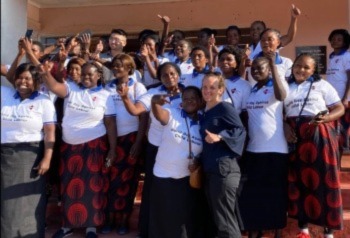 Nicole Hanson and Mingyou Yang with women in the WORTH programme in Zambia.
For a perspective on a day in the life of a woman working at an artisanal mining site, we'd like to share this article written by The Impact Facility back in 2021: A smile and a hammer. The fortitude of women in artisanal mining.
To keep informed about the LME's Sustainability work sign up to receive the Sustainability Spotlight, and read our previous editions.