07.30 - Registration
Doors open for registration
Breakfast and networking
---
08.30 - CEO welcome address
Matthew Chamberlain, CEO, London Metal Exchange
---
08.40 - Industry keynote address
Hilde Merete Aasheim, CEO, Norsk Hydro
---
09.05 - Economic keynote: global economic outlook
Neil Shearing, Global Chief Economist, Capital Economics
---
09.30 - China's role in the global metals market
Post-COVID recovery – how quickly China has recovered and what is the impact on commodities prices?

Pricing power – global dependence on China and the move to increased domestic production

China's decarbonisation strategy and its impact on metals industry
Moderated by: Yang Liu, Head of China Sales, London Metal Exchange
Panellists:
Amelia Fu, Head of Global Commodities Strategy, BOCI
Yanchen Wang, Managing Director, SMM Global UK
Nick Snowdon, Metals Strategist, Goldman Sachs
---
10.15 - Break
---
10.40 - The Metals Debate
The commodities macro cycle – bull or bear for LME metals?
Aluminium
Copper
Lead
Nickel
Tin
Zinc
Moderated by: Mark Burton, Journalist, Bloomberg
Panellists:
Vanessa Davidson, Director of Base Metals Research & Strategy, CRU
Duncan Hobbs, Research Manager, Concord Resources
Tom Mulqueen, Head of Research, Amalgamated Metal Trading
Timothy Weiner, Vice President Aluminum Pricing & Risk Management,

Harbor Aluminum

Jessica Fung, Head Strategist, Pala Investments
---
12.05 - Break
---
12.30 - The digitalisation of the metals market
How is the market evolving through adoption of new technologies?
What are the key drivers and barriers for change?
What questions should physical players consider?
Moderated by: Robin Martin, Head of Market Development, London Metal Exchange

Panellists:
Frank Jackel, Co-Founder and Managing Director, Metalshub
Etienne Amic, CEO, VAKT
---
13.15 - Lunch
---
14.00 - Sustainability and mining - the green revolution paradox
Metals are considered essential to support the "green revolution", but this demand poses a number of key questions for the mining industry which produces them:
Can "green technology" be considered green, if it depends on materials which have not been produced sustainably?
What work has the mining industry already done to address these issues, and what more does it need to do to change its reputation? What is the tipping point at which mining can be considered sustainable?
Why are some countries lobbying against the mining industry?
How much does the 'green revolution' rely on mining? And is it possible to meet this demand?
What infrastructure and technology are required for a sustainable planet?
Moderated by: Neil Hume, Natural Resources Editor, Financial Times
Panellists:
Geordie Wilkes, Head of Research, Sucden Financial
Aidan Davy, COO, ICMM
Mikko Keto, Global Mining President, FLSmidth
---
15.00 - Close
---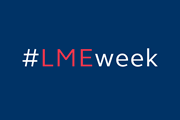 Don't miss out on your place at the LME Metals Seminar 2021. Monday 11 October 2021, 07.30-15.00 BST, Queen Elizabeth II Centre, London. Join the conversation in-person or online.
Register now
Stay up to date
Register with LME.com
Receive full access to all our price data and gain access to our monthly LME newsletter, packed with market tips and insights from our on-staff specialists.