Welcome to July's edition of the Sustainability Spotlight 2023.
In this issue we welcome guest authors, James Nicholson of Trafigura and Andrew Britton of Kumi, who share their thoughts in their "Market Insight" article on the broadening role that responsible sourcing plays within the metals and mining industries.
We also provide important updates on LMEpassport, responsible sourcing and responsible sourcing deadlines, and upcoming events.
LMEpassport
In our last Sustainability Spotlight, we announced the launch of the new producer profiles and public sustainability pages.
As a reminder, the producer profiles are public pages, accessible to all, that enable each LME producer to list their brands and showcase their sustainability credentials. Our video highlighting the latest round of enhancements provides on overview of the sustainability side of the platform, sharing how every user can access the sustainability data uploaded by our producers.

We are now launching a new user guide video for producers. Following great feedback from the previous video, this latest video is designed to give our producers the toolkit to navigate the platform and add a range of sustainability credentials and metrics.
LMEpassport Producer User Guide - watch the video
We hope that these videos provide valuable resources, for not only our producers, but the wider metals community, to understand and use the sustainability features of LMEpassport, facilitating greater transparency to enable the sustainable transition.
Over the coming months, we'll be encouraging an increasing number of producers to disclose a range of sustainability credentials and will be extending the number of certifications, standards and metrics available on the platform. If you would like to see a specific certification, standard or metric on LMEpassport, you can fill out a simple form to start the process - please email us for the form if you would like to do this. We accept applications from all – not just our producers!
Find out more about LMEpassport and watch the videos
View sustainability data on LMEpassport

Certificates of analysis
LMEpassport also functions as an electronic certificates of analysis ("CoA") credentials register. In May, the decision was made to defer the deadlines (PDF) associated with the mandatory upload of CoAs to give companies more time to prepare for this transition. It is worth highlighting that the responsible sourcing deadlines for LME-listed brands remain the same.
If you would like to get involved or discuss LMEpassport in more depth, please email the Sustainability team.
Responsible sourcing
Publication of the LME's CAHRA guidance within the LME Responsible Sourcing Handbook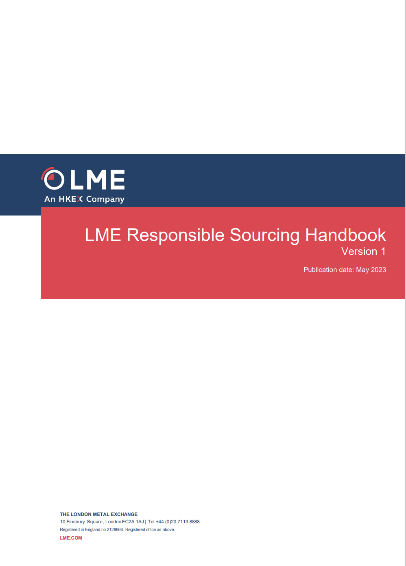 One of the most common questions we receive from producers following Tracks B or C is about how to determine Conflict-Affected and High-Risk Areas ("CAHRAs"). Recently, we published our CAHRA Guidance in line with current market practice. We hope this guidance helps to improve the understanding of our expectations for defining CAHRAs. For convenience, we have compiled this and all other guidance notes related to responsible sourcing into one handbook. We recommended this as the starting place to understanding the LME's responsible sourcing vision, policy and technical implementation questions.

View the handbook

On a related note, we have provided clarification around our recognition of the LBMA's Responsible Gold and Silver Guidance. If you are a producer of metals on both the Good Delivery List for LBMA (utilising Responsible Gold Guidance version 9) and the LME's list of approved brands, we recommend you review the LBMA – LME Guide on the Approved Partners page next to LBMA's entry.

OECD Forum on Responsible Mineral Supply Chains

The 2023 OECD Forum on Responsible Mineral Supply Chains took place on 24-28 April and was an excellent opportunity to evaluate global progress on implementation of the OECD Guidance. Throughout the week, we exchanged ideas with producers, consumers, civil society, legislators and other value chain actors on responsible sourcing topics. The LME's Chief Sustainability Officer, Georgina Hallett, took part in a panel on the role of legislation and market requirements in overcoming shortcomings in minerals due diligence. Nicole Hanson, the LME's Responsible Sourcing Manager, joined the Extractive Industries Transparency Initiative ("EITI") to discuss the relationship between the LME's requirements, the OECD Guidance and the EITI with the goal of addressing financial crime and corruption risks in metal supply chains. The LME and OECD also hosted a discussion about the challenges of auditing the OECD Guidance with auditors, standard organisations and other stakeholders. The event also provided the chance for the LME to share the progress achieved in responsible sourcing to date. We are already saving the date for April 2024!

Watch Georgina's panel discussion

Webinars

The LME continues to host webinars with standards and partners to ensure producers have all the information they need to comply with our upcoming deadlines. Coming up on 18 July 2023, we're taking part in a webinar with the Responsible Minerals Initiative (RMI) explaining in detail how RMI standards can support compliance with LME responsible sourcing requirements for track A and equivalence for ISO 140001 and ISO 45001. Please register here before 14 July 2023 to secure your place.
In addition to recent webinars with the Copper Mark and the ASI, we also recommend revisiting the webinar "Understanding Audit and Management Systems" from 2020 for an excellent overview of Step 1, 2, and 5 of the OECD Guidance.

View the latest webinars, including the most recent editions hosted by the ASI and the Copper Mark


Upcoming deadlines

We would like to remind all LME-listed brand producers of the upcoming deadlines to maintain their listed status. Thanks to the producers using Tracks B or C who sent in their submissions by the 30 June deadline. All compliance documents should be emailed to the Responsible Sourcing team on or before the deadlines shown below:
| | | |
| --- | --- | --- |
| | Deadline | What to send to the LME? |
| Track A brands | 31 December 2023 | Chosen Track A standard audit report |
| Track B brands | 30 June 2023 | Red Flag Assessment Audit Report |
| Track C brands | 30 June 2023 | Red Flag Assessment - completed template |
| Track D brands | One year from previous submission | Signed Secondary Materials Sourcing Attestation Form |
| All brands ISOs 14001 and 45001 (or equivalent) | 31 December 2023 | ISO certificates |
If you would like to get involved or discuss responsible sourcing in more depth, please email the Responsible Sourcing team.
The LME's net-zero efforts
The LME continues to progress its sustainability agenda internally, including making headway against our 2040 net-zero goal.
April 2023 saw our inaugural celebration of Earth Day. This involved a week-long series of talks, articles and employee engagement initiatives designed to raise awareness on all things sustainability (internal and external). We were able to outline our sustainability work in the context of its broader CSR programme, bringing colleagues and suppliers on our net-zero journey.
Sustainability events
In May, we hosted LME Asia Week – in person for the first time since 2019. It is the annual gathering in Hong Kong of industry leaders and market participants from metals and financial communities around the world. The LME Asial Metals Seminar, one of the flagship events of the week, included panels on a wide range of topics including metals outlook, a spotlight on battery metals and sustainability.

Watch the LME Asia Metals Seminar presentations
Upcoming events

A reminder that this year's LME Week, the annual gathering in London of the global metals community, will run from Monday 9 October 2023. We look forward to hosting the usual LME Metals Seminar on Monday, and the Annual Dinner on Tuesday 10 October 2023.
The RMI and the LME are hosting a webinar on Tuesday 18 July 2023 to discuss how RMI standards can support compliance with LME responsible sourcing requirements for track A and equivalence for ISO 140001 and ISO 45001. Register here by 14 July to participate in the webinar.
LME Responsible Sourcing Manager, Nicole Hanson, will be attending the annual RMI conference on Monday 16 October 2023.
LME Chief Sustainability Officer, Georgina Hallett, will be attending the 37th Annual Fastmarkets' International Aluminium Conference 2023 in Barcelona on Thursday 14 September 2023. Georgina will take part in a panel discussing ESG and low carbon aluminium.

Keep up with the latest plans for LME Week

Let us know if you're in town for the event and would like to meet to discuss anything sustainability-related.
Market insight: We have work to do – paradoxes in responsible sourcing
by James Nicholson of Trafigura and Andrew Britton of Kumi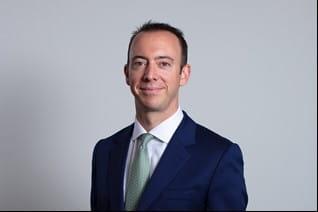 James is Head of Social Responsibility at Trafigura, having joined the company in 2010. Responsible for drivingTrafigura's social performance agenda worldwide, James' focus has included developing the company's leadership position on commodity trading transparency and responsible value chains. In 2019, James was appointed to the International Board of the EITI and currently chairs the EITI's Outreach and Candidature Committee. Prior to Trafigura, James worked in a similar capacity at the De Beers Group for over 9 years.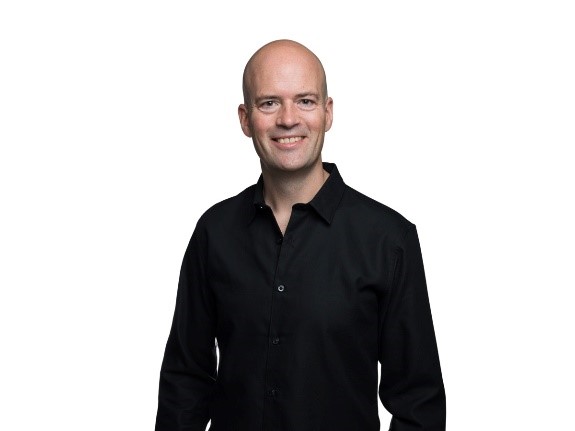 Andrew is the founder and CEO of Kumi, a specialist advisory firm that focuses on responsible supply chains. Kumi works at all levels of the minerals and metals supply chain and across both industrial and precious metals, from mines in central Africa through to global consumer brands, helping companies to design, implement and assess responsible sourcing practices. Andrew led Kumi's work supporting the OECD in the development of the OECD's Alignment Assessment methodology, which has been integrated into the EU Conflict Minerals Regulation and the LME's Responsible Sourcing requirements. Kumi is currently working with the LME and OECD on alignment assessments of industry schemes, as well as supporting LME brands seeking to develop and strengthen their responsible sourcing programmes.
The need for the responsible sourcing of metals and minerals is clear. What is less clear is whether current efforts are generating positive change, where it matters most. Is there sufficient awareness of the complexity of the responsible sourcing challenge? Is interest and concern on the topic translating into truly effective actions, or is there a risk of prioritising style over substance; of 'greenwashing' in the pursuit of easy answers to complex questions?

We have each worked in the responsible sourcing field for nearly two decades a-piece and it's clear to us that a lot has changed – for the better – in terms of the awareness of the importance of responsible sourcing and the willingness to take action to build more responsible supply chains. The LME has played a major part in this.
From Trafigura's perspective, five years ago, hardly any commercial buyers or financiers asked about responsible sourcing issues; now, the majority do (to some degree). This has been invaluable when building the business case amongst executives and traders for our own responsible sourcing programme and, more importantly, further investing and extending its reach into new jurisdictions and new products.
In metals supply chains, the term "responsible sourcing" is no longer synonymous with a narrow focus on so-called "conflict minerals", or only on supply chains of metals from central Africa. Instead, it is now widely understood to apply to all metals, across all geographies and, increasingly, to relate to a wide range of environmental, social and governance (ESG) issues.
But significant challenges remain.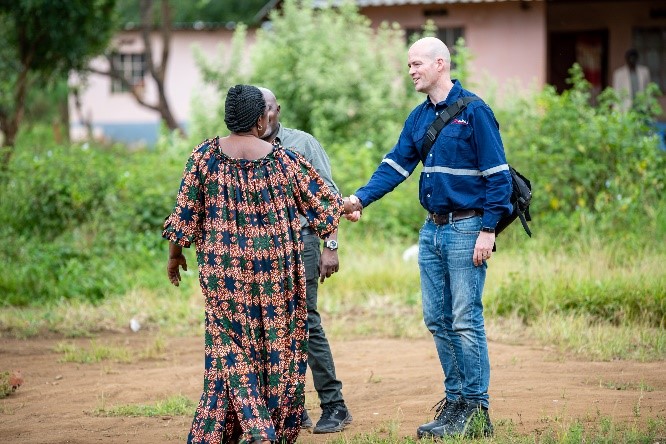 Delivering due diligence: Kumi team members engaging local communities at a mine concession in the DRC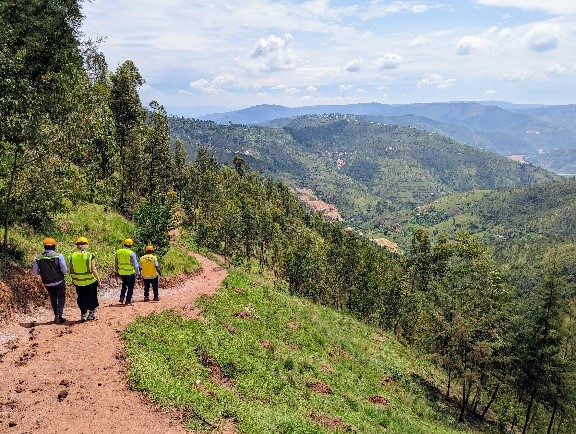 Visiting artisanal mining operations in Rwanda.

Buyers' expectations often do not consider supply chain realities
It is notable when you attend responsible sourcing-focused conferences how few producers are in the room. As a result, there is often a gulf between the ESG expectations of downstream buyers and the capacity of metals producers to understand and respond to these expectations.
Many downstream buyers will proudly relay how they "demand" high standards from their raw material suppliers, and will then specify these demands in lengthy ESG questionnaires that get passed down the supply chain.
However, the majority of metals traded and consumed across the world are not produced by international corporations with sophisticated ESG management capabilities, but by producers and processors operating in national contexts far removed from "international norms" who often have a limited understanding of and capacity to address downstream concerns. Many of these producers and processors are small or medium-sized businesses. And make no mistake, it is these entities that will increasingly fuel the energy transition which is driving demand across many critical metals.
There needs to be a much greater recognition of the significant presence of these smaller producers in global metals supply chains. Downstream buyers setting unachievable expectations against complex certification standards can lead to a "fake it until you make it" mindset of box-ticking compliance.

Seeking black and white answers when the only option is shades of grey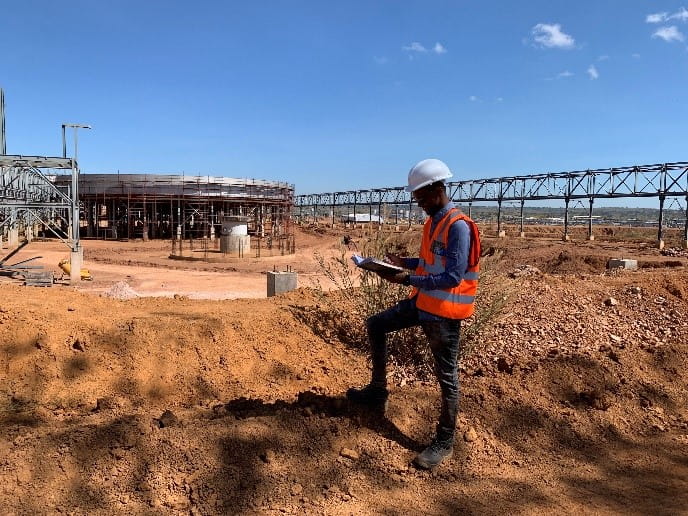 Where it matters: a member of Trafigura's diligence team on the ground.
It is important to recognise that the lens through which responsible sourcing is evaluated – following the principles defined in the OECD guidelines – is not the same lens through which many people evaluate risk. This disjuncture is sharpening ever more as regulatory compliance requirements for supply chain due diligence, such as the German Supply Chain Act and the forthcoming EU Corporate Sustainability Due Diligence Directive, becoming increasingly important.
Companies are asking "is this supplier 'clean' - yes or no? What is the 'stamp' that certifies it as 'clean'?". This approach flies in the face of the progressive, risk-based due diligence approach set out in the OECD Guidelines – which, ironically, most market compliance or regulatory standards for responsible sourcing are built on. Something important has been lost in translation.
We see a clear trend towards supplier risk scores, ratings and certification – this is what companies, particularly downstream buyers of metals and investors, clearly want. But is it what society expects or needs? Does it really drive change on the ground? Or is this primarily an exercise in de-risking?
Time to collectively "roll up our sleeves"

Whilst the fast-evolving compliance agenda for responsible sourcing undoubtedly presents challenges and adds costs for companies, it also presents great opportunities. Businesses really can be a force for good; responsible sourcing practices really can make a positive difference to peoples' lives in producing countries.
But realising this potential requires businesses to be willing to take some risks. We should not expect perfection. We need to recognise that many producers need help in understanding and applying responsible sourcing standards, and there is a journey to go on from where they are now to the expectations of global standards. We need to be prepared to work, as commercial partners, with such producers and not simply walk away at the first sign of difficulty.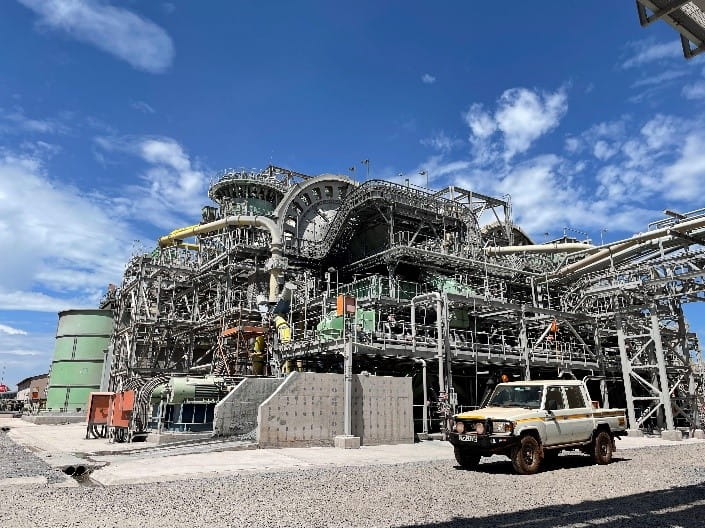 Site assessments range from mine site, to processing unit, to stock yard and in between.
For example, Trafigura, with support from Kumi, is implementing a programme of awareness raising and capacity building with lead and zinc producers in Bolivia, to help put in place the fundamentals of due diligence. To be frank, progress is slower than we would like. The local context is difficult; most other buyers are not making the same requests of producers which limits our leverage in the market. But, step by step, we do see progress, and we are committed to making our best efforts to do the right thing.
We also need to see better use of commercial incentives for responsible sourcing: more "carrots" instead of just compliance "sticks". One important area is the use of Sustainability Linked Loans (SLLs) by banks and other capital providers. SLLs enable banks to influence and drive change as a condition of financing. In March 2022, Trafigura refinanced its multi-currency syndicated revolving credit facilities totalling US$5.3 billion. The renewed SLL structure includes four key performance indicators (KPIs) to be tested annually and verified by a third-party expert, including the responsible sourcing of metals and the implementation of the Voluntary Principles on Security and Human Rights at Trafigura's operations. The facility agent will apply a penalty or discount on the margin, depending on the number of KPIs met each year. Trafigura is actively looking at other opportunities where the use of SLLs, or tools like them, could be a powerful motivator for mining companies, traders and others seeking access to finance to adopt and implement responsible sourcing practices.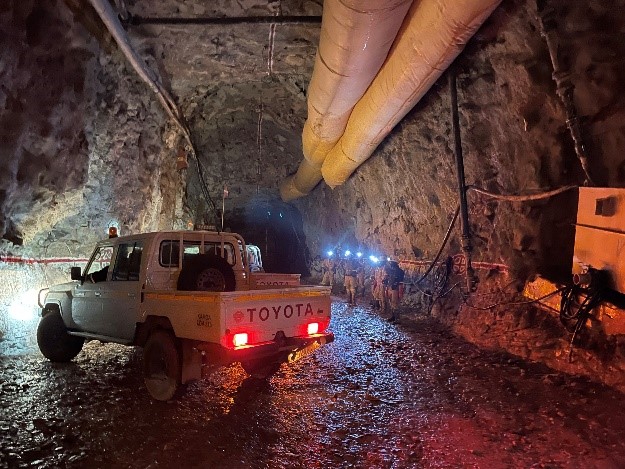 Into the depths of the matter: Each year Trafigura commissions multiple site assessments worldwide through its own dedicated team as well as via specialists such as Kumi.
Responsible sourcing practices, properly implemented through global supply chains, really can be a catalyst for meaningful and sustainable socio-economic development. We all need to play our part in making that happen. And a healthy dose of pragmatism, twinned with an appetite for making progressive and practical interventions, is going to be key.
---
Want to get involved?
Interested in contributing to a future newsletter or getting involved in a working group? Send us an email!

Contact information
Email the LME sustainability team
Please send us an email to join the LME's sustainability distribution list, or to opt out.