LME Week returns on Monday 24 October 2022!
The LME Metals Seminar kicks off the week at the QEII Centre, London, with a day full of informative discussion and debates on the big issues facing the metals industry today.
The conference covers all aspects of the ever-changing metals market including the macroeconomic outlook, market trends, and issues facing the metals industry today such as sustainability and supply chains. It features high-profile speakers, interactive panel discussions, and has an international audience of over 600 delegates.
The event takes place in London, but delegates are also able to book an online ticket giving access to live content online.
lme metals seminar
Why the LME Metals Seminar is the must-attend event in the metal industry calendar.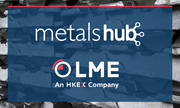 The LME is delighted to be collaborating with Metalshub to establish a transparent, efficient and liquid spot trading platform and marketplace for base metals, including those suited more to spot trading, like low-carbon aluminium.
Find out more
Stay up to date
Register with LME.com
Receive full access to all our price data and gain access to our monthly LME newsletter, packed with market tips and insights from our on-staff specialists.